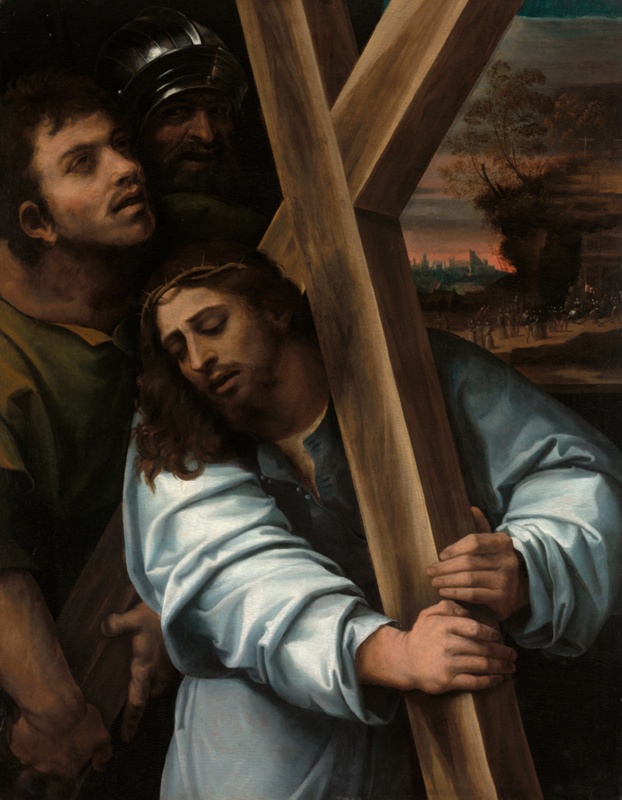 But God forbid that I should glory, save in the cross of our Lord Jesus Christ; by whom the world is crucified to me, and I to the world. (Gal. 6: 14)
 To "glory" in something necessarily speaks of surpassing joy. Among all the thousands of Catholic saints, nowhere is the joy of carrying the cross of Christ more evidenced than in St. Francis of Assisi, whom Pope Pius XI called 'the Second Christ" (the encyclical Rite Expiatis). The following, from Ch. VIII of The Little Flowers of St. Francis, contains St. Francis' own exposition of the wellsprings of this holy joy:
One day in winter, as St Francis was going with Brother Leo from Perugia to St Mary of the Angels, and was suffering greatly from the cold, he called to Brother Leo, who was walking on before him, and said to him: "Brother Leo, if it were to please God that the Friars Minor should give, in all lands, a great example of holiness and edification, write down, and note carefully, that this would not be perfect joy."
A little further on, St Francis called to him a second time: "O Brother Leo, if the Friars Minor were to make the lame to walk, if they should make straight the crooked, chase away demons, give sight to the blind, hearing to the deaf, speech to the dumb, and, what is even a far greater work, if they should raise the dead after four days, write that this would not be perfect joy."
Shortly after, he cried out again: "O Brother Leo, if the Friars Minor knew all languages; if they were versed in all science; if they could explain all Scripture; if they had the gift of prophecy, and could reveal, not only all future things, but likewise the secrets of all consciences and all souls, write that this would not be perfect joy."
After proceeding a few steps farther, he cried out again with a loud voice: "O Brother Leo, thou little lamb of God! if the Friars Minor could speak with the tongues of angels; if they could explain the course of the stars; if they knew the virtues of all plants; if all the treasures of the earth were revealed to them; if they were acquainted with the various qualities of all birds, of all fish, of all animals, of men, of trees, of stones, of roots, and of waters – write that this would not be perfect joy."
Shortly after, he cried out again: "O Brother Leo, if the Friars Minor had the gift of preaching so as to convert all infidels to the faith of Christ, write that this would not be perfect joy."
Now when this manner of discourse had lasted for the space of two miles, Brother Leo in great amazement asked him: "Father, I beg thee to tell me wherein is perfect joy."
St Francis answered: "If, when we shall arrive at St Mary of the Angels, all drenched with rain and trembling with cold, all covered with mud and exhausted from hunger; if, when we knock at the convent-gate, the porter should come angrily and ask us who we are; if, after we have told him, `We are two of the brethren', he should answer angrily, `What ye say is not the truth; ye are but two impostors going about to deceive the world, and take away the alms of the poor; begone I say'; if then he refuse to open to us, and leave us outside, exposed to the snow and rain, suffering from cold and hunger till nightfall – then, if we accept such injustice, such cruelty and such contempt with patience, without being ruffled and without murmuring, believing with humility and charity that the porter really knows us, and that it is God who maketh him to speak thus against us, write down, O Brother Leo, that this is perfect joy.
And if we knock again, and the porter come out in anger to drive us away with oaths and blows, as if we were vile impostors, saying, `Begone, miserable robbers! Go to the hospital, for here you shall neither eat nor sleep!' – and if we accept all this with patience, with joy, and with charity, O Brother Leo, write that this indeed is perfect joy.
And if, urged by cold and hunger, we knock again, calling to the porter and entreating him with many tears to open to us and give us shelter, for the love of God, and if he come out more angry than before, exclaiming, `These are but importunate rascals, I will deal with them as they deserve'; and taking a knotted stick, he seize us by the hood, throwing us on the ground, rolling us in the snow, and shall beat and wound us with the knots in the stick – if we bear all these injuries with patience and joy, thinking of the sufferings of our Blessed Lord, which we would share out of love for him, write, O Brother Leo, that here, finally, is perfect joy.
And now, brother, listen to the conclusion. Above all the graces and all the gifts of the Holy Spirit which Christ grants to his friends, is the grace of overcoming oneself, and accepting willingly, out of love for Christ, all suffering, injury, discomfort and contempt; for in all other gifts of God we cannot glory, seeing they proceed not from ourselves but from God, according to the words of the Apostle, `What hast thou that thou hast not received from God? and if thou hast received it, why dost thou glory as if thou hadst not received it?'
But in the cross of tribulation and affliction we may glory, because, as the Apostle says again, `I will not glory save in the cross of our Lord Jesus Christ.' Amen.
All three of the synoptic Gospels (with very minor variation) contain the following, absolutely-central teaching of Jesus:
"And he that taketh not up his cross, and followeth me, is not worthy of me. He that findeth his life, shall lose it: and he that shall lose his life for me, shall find it." Mt. 10: 38-39).
And St. Paul writes, "For the word of the cross, to them indeed that perish, is foolishness; but to them that are saved, that is, to us, it is the power of God." (1 Cor. 1:18).
That carrying the cross of suffering is joy, and that it is wisdom, power – all of this is unique to Catholicism. Voluntary embrace of the cross – the embrace of suffering as a way of both salvation and sanctification by which we die to self in order that Christ may live within us – exists nowhere else in the world. For the atheist or agnostic, who has no hope but in the pleasures of this present life, it is of course absolute foolishness. For the eastern religions such as Hinduism and Buddhism, suffering is simply something from which they seek escape. Islam, which does indeed believe that dying in battle against the infidel results in the gift of a sensuous paradise, there is yet no concept of personal sanctification or true union with God, and the holiness to be attained through suffering and purification. The Jew rejects both Christ and His Cross, and awaits a Messiah who will bring victory over his earthly enemies. The Protestant rejects the necessity of any "works" for salvation ("Faith alone"), and therefore also rejects the work of the cross on the part of individual men. And it also therefore rejects the necessity of that personal sanctification which finds fulfillment in the Beatific Vision of God's Essence.
We are truly alone in this world. And because we do indeed propose that there is salvation only in the cross, and that the bearing of this cross is something all men must do if they wish to find salvation, then the entire world, whether explicitly or implicitly, is bound to hate us.
The problem for us, therefore, in the midst of a world which is rapidly plummeting into a hatred of everything to do with Christianity, is to truly find the joy which lies deeply hidden in the Cross of Our Lord Jesus Christ. And this requires vision – to be able to see just how it is that the cross is the source of all power, wisdom, and freedom in Christ.
There are two things which would seem to be the source of bewildering amazement in the lives of the greatest saints. The first lies in the fact that it is these same saints who virtually always see themselves as the worst of sinners. Such is indeed a wonder to all of us who hold them up as profound examples of sanctity.
The second source of amazement is the extraordinary degree to which such men and women seek out suffering, humiliation, and even death. We think for instance of St. Francis who longed for martyrdom at the hands of Moslems in the Middle East; or of someone like St. Ignatius of Antioch (a direct disciple of the Apostle John), who on the way to martyrdom, wrote the following to the Christians in Rome, begging them not to interfere: "I am God's wheat, and by the teeth of wild beasts I am to be ground that I may prove Christ's pure bread."
We rightly say that only certain persons are called to such ultimate sacrifice, and therefore receive the grace from God to be faithful to such a call. But this does not mean that there is not a profound truth hidden deeply in these examples of ultimate sacrifice which is not only applicable, but absolutely necessary, for all men if they are to truly live as Christians. This truth lies in this: that each one of us is called to profoundly desire the death of everything within ourselves which detracts in any way from the truth that God is all in all, and that there is only room for Christ's life and light within us to the extent that we die to self.
This should provide us with the answer as to why great saints inevitably have come to the conclusion that they are the worst of sinners. The greater is the life of Christ which has penetrated into their hearts and minds, the greater is the supernatural light which radiates into all the hidden corners of their being in order to reveal all their own infidelities and sins. This, in turn, increases in them the desire for the cleansing fire of God's grace for their own purification, which is always accomplished through some degree of suffering. Their joy, wisdom, and power come not in having achieved absolute perfection in this life, but in the knowledge and love which burns ever closer to Christ. It is this "River of Light" in which, despite all the sufferings we may be called to embrace, lies also our own joy and perseverance. When Christ proclaimed, "Come to me, all you that labour, and are burdened, and I will refresh you. Take up my yoke upon you, and learn of me, because I am meek, and humble of heart: and you shall find rest to your souls. For my yoke is sweet, and my burden light", this entails not that we will escape suffering or the need for continual penance and self-mortification, but that such refreshment, rest, sweetness, and light are to be found in the depths of these crosses.
Carrying the cross consists therefore not just in accepting the sufferings that come to us throughout life, and especially in death, but also actively seeking out this cleansing fire through voluntarily efforts towards self-knowledge, penance and self-denial. This sweet, cleansing River of the Light of Purification has been entrusted by Christ to the Immaculate Heart of Mary. On the Feast of the Purification of the Blessed Virgin Mary and the Presentation of our Lord in the Temple, we read the following words of St. Simeon to Mary: "And thy own soul a sword shall pierce, that, out of many hearts, thoughts may be revealed." (Luke 2:35). Holy Scripture tells us that the "[human] heart is perverse above all things, who can know it?" (Jer. 17: 9). It is within the absolutely pure, Immaculate Heart of Mary that God has established the fountain of light which alone can unmask all our deceits, double-mindedness, and duplicity. And it is here, wrapped in the embracing love of the Mother of Christ and of all men, that we receive the supernatural grace to be immersed in her Motherly love flowing from Christ, and to be transformed into the likeness of her Son. It is only here where the way of the cross becomes the great sweetness of our lives.
This is the radical difference of the Rosary to the Interior: For the Purification of the Church. It recognizes that at the heart of our own powerlessness, in the face of a world turning at a geometric pace into the face of Antichrist, is our own duplicity and radical need for self-purification. Our light is dimmed, our power severely diminished. Millions join in Rosary crusades in Washington D.C. and elsewhere for the end of abortion, with no answer in sight. Irish Catholics journey to their coasts to pray the Rosary for the same intention, and within days the people of this nation, once considered by many to be the most Catholic of all nations, vote 2-1 in favor of murdering untold numbers of their future children. The chastisement we are facing, both from within and without the Church, is clearly a chastisement from God for our own infidelities. There can be no remedy for this crisis unless we first turn inward, and seek with all the integrity that we can muster, the light and power of Our Lady's Motherly care which will first accomplish our own interior purification.
___________________________________________________
*Please join us on February 2, 2019, Feast of the Purification and the Presentation (and also a First Saturday) for the second annual Rosary to the Interior: For the Purification of the Church. Please pray every Rosary to include this intention, and also ask your pastor to implement this event in their churches or chapels. More details are to be found on our website at: www.rosarytotheinterior.com
.
Please spread the word about the Rosary!